House & Land
Are you downsizing your home for retirement?
Are you among the nearly one in three (29 per cent) of Australians over 55 years old who are currently planning to downsize into a smaller home? Maybe you're just considering downsizingyour home for retirement and you're not sure if you want to make the change yet. There are a lot of things to consider when downsizing into a smaller and more manageable property. At Thrive Homes, there are many home designs that are perfect for downsizers.
What is downsizing?

Downsizing is popular among retirees who no longer need a large home or the upkeep that comes with it. Downsizing means a smaller home so less cleaning and maintenance—perfect for retirees that are ready to enjoy their retirement and relax.
Sometimes the home we're living in just isn't the right size for us. As we get older and our children leave the nest, the big family home can become too spacious and it makes sense to move into a smaller home.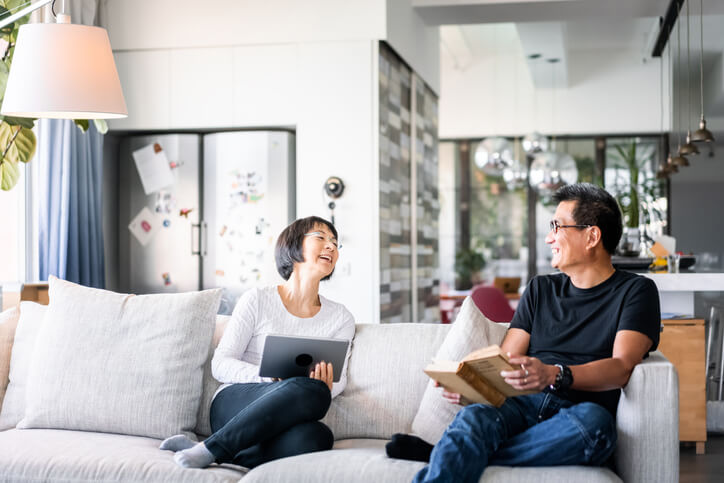 Steps to downsizing your home
1.The first step when downsizing is deciding how much smaller you want to go. For example, some retirees who have grandchildren or young family members want to make sure their new, smaller home, still has a spare bedroom for any visitors to stay in. You need to know how much space you want or need.
2. Decluttering! There's no way you can fit all your furniture from a larger home into a smaller one. The decluttering process can be something you do throughout your downsizing journey—you don't need to get rid of all your furniture as soon as you decide to downsize—but it's still important to do. If you have family nearby, this is a great activity to do together since they might be interested in taking some of your old furniture that you won't be taking to your new home.
3. Next, you need to consider the location. Location is key, are you looking to stay close by to the people who matter to you most? Are there certain amenities you need within walking distance? Are you moving to a new area like Leppington or Marsden Park for a lifestyle choice? These are all questions you need to ask yourself when thinking about downsizing.
Finally, you need to choose your new home, which can be the hardest part. To make things easier, you can reach out and let us know what you're looking for so that we can help you on your downsizing journey.


Six reasons why downsizers are flocking to Thrive Homes
1. You don't have to sell the family home
Right now, the market is down, and it doesn't make sense to sell. Thrive Homes is attracting downsizers who will take out a reverse mortgage on their homes instead, using equity to buy land and build a brand-new home for much less than it would cost to purchase an existing home in a more established area. This way, they're taking advantage of the lower greenfield house and land package prices and building in a yet-to-boom part of Sydney. By holding on to their main asset and using it to earn rental income until the market improves, they can get a higher price yield.
2. "New" equals "easy"
You're looking for a home that doesn't require two days a week dedicated to yard maintenance and housework. A brand-new home is easier to maintain and, with higher home-to-land ratios on new blocks in Sydney, you get all the benefits of a yard without the hassle.


3. Smaller, but not too small
You want a more manageable home, but you still want at least three bedrooms so family and friends can stay over. The living areas also need to be big enough to entertain. And it'd be nice to have a quiet place outside to sit without the neighbours sitting in your lap!

4. Better design
With a spare quarter mill, you could renovate a few rooms of the family home – or, you could build a brand-new one that's designed to get the best use of every square metre of floor space. Choose a design like the Rise home design with its built-in wardrobes. Storage is built-in to give you as much liveable space as possible, and keep all the treasured furniture and keepsakes that you'd otherwise need to get rid of if, for example, you were to downsize into an apartment.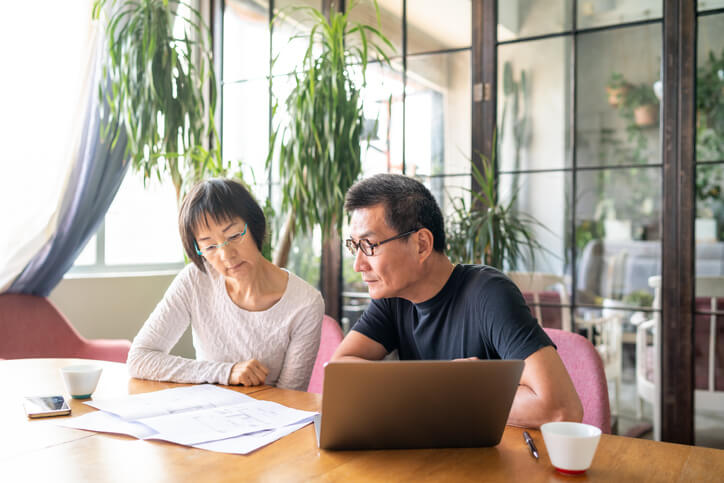 5. A home to grow older in
There comes a point where living in a house with lots of stairs and steps becomes impractical. Building a new home that's designed to be liveable even as your physical needs change, makes more sense than the more expensive exercise of redesigning and renovating the family home.
6. You'll keep growing personal wealth
Thrive Homes builds high-quality, attainable homes in Sydney's emerging suburbs. These areas are yet to achieve their full potential for capital gains on residential property – meaning that as demand escalates, so too will the value of the property you'll have bought for much, much less. Rather than being at the point where you need to dip into savings and compromise assets you'll need after your working life has concluded, Thrive Homes represents an opportunity to keep building on your plans for a comfortable retirement. Take a look at some of our finance options to learn more.
Moving into a new home is also an opportunity to invest in renewable resources. Our energy efficient home range are the perfect solution. These environmentally friendly upgrades to a home can cut down your bills a lot and if you're moving into a new home, why not move into a home that helps out the planet and your wallet? Cost-effectiveness is just one of the benefits of downsizing.
Benefits of downsizing
Along with saving money, downsizing could be saving you time and energy. No more cleaning and dusting those rooms that hardly ever get used. A smaller living room can be easier to vacuum. Not to mention, in a smaller house the essentials—like the bathroom or kitchen—can be a lot easier to access.
Downsizing also puts you back in control. You get to choose the new house and you don't have to consider anything except what you want, where you want to live and how you want your house to look. There aren't little ones living at home to consider, it's all up to you.
Downsizing also means decluttering. It means no holding on to the things you don't need. Now's the time to start living that minimal, stress-free, uncluttered life.
Downsizing in Australia
The Australian housing market has seen prices increase steadily for a long time, but in 2020 a lot has changed. House prices are a lot lower as Australia faces the economic difficulties of a pandemic. Right now, we often recommend not selling your home, but refinancing it to access the necessary funds to purchase a new, downsized home. That way you get to keep your old home and generate income via renting, and you don't risk selling your property for too low a price. It's that same reason that buying a new home could be a good investment and why now might be the right time to downsize.
In the same way that selling your home could be a bad idea because prices are low, buying a property could be a good idea if prices are low. Maybe now's the time to build one of our designs, like the amazing Essence design, if you're ready and the market is right for you.
Take a look at Thrive Home's promotions and you'll see that it might be easier to afford a downsized home than you initially expected.
If you're ready to downsize and you want to take a look at your options, visit one of our display locations to walk through a home design that could be yours and to meet our team who can help to downsize your home.