House & Land
Area Profile: Aspect Estate, Austral
Located within Sydney's in-demand South-West growth corridor, Austral is one of those rare pockets in Sydney that's able to offer first home buyers still-affordable properties, without compromising on location and convenience. With Leppington train station operational, Sydney and Parramatta CBDs are only about an hour away and closer still you'll find Camden, Campbelltown and Liverpool. Plus, there's plenty on offer within Austral itself. In fact, we wrote a blog about it recently! Check it out here.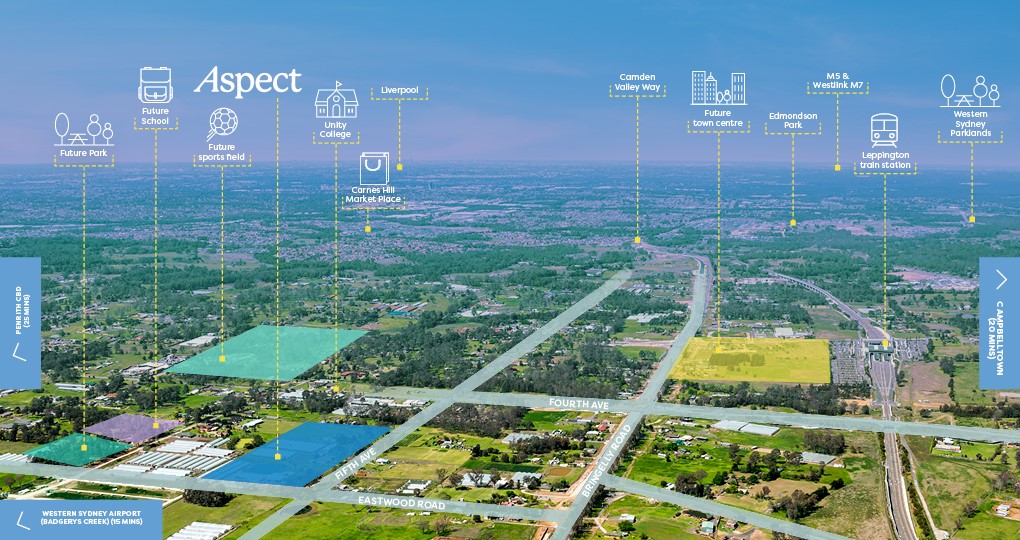 Being such hot property, land in Austral is selling fast - but this is where we come in. As a division of the Rawson Group, Thrive clients can enjoy access to many of Rawson Communities' new developments, one of these developments being Aspect Estate, located in the heart of Austral itself.
As well as its location (only a 10 minute walk to Leppington train station, down the road from the future Austral Town Centre, parks, schools and sporting fields on your doorstep and the hub of Liverpool only a 25 minute drive away), one of the key advantages of Aspect is the variety of homes on offer. As well as the award-winning designs crafted by the team at Rawson, we at Thrive have our affordable three and four bedroom homes up for consideration, with plenty of different designs and lots to choose from. As an added bonus, all our land is a fixed price, including all site costs so you get a clear upfront idea of what you're going to be spending.
Our current faves on offer at Aspect have to be our corner lots, Lot 121 and Lot 153. These lots are both packaged with our stylish and spacious Crescent 17, a three bedroom, two bathroom home with combined living/dining/kitchen that's great for entertaining. This home has been specially designed for corner lots, utilising the secondary street frontage to maximise space in the living areas of the home. Starting from only $693,900* and $695,100* respectively for both the house and the land, these lots provide an affordable opportunity to get your foot in the door at this highly sought after development. For a limited time, you can secure one of these corner lots with only a 5% land deposit, making these packages more achievable then ever!
Both Aspect's first and second releases sold out quickly, and with the third release to come, if you're interested don't hesitate to get in touch with us. Our Sales Experts will contact you to arrange an initial consultation, where they can discuss all your preferences and requirements to find the package perfect for you.
*price correct at time of posting