Design, Tips & Trends
DIY Wall Styling Part 2: Plant Walls
Indoor plants are a fantastic way to bring life to your home and work well in any room of the house. So, what if you've got a whole wall to fill as opposed to just a corner? Why not try a DIY plant wall!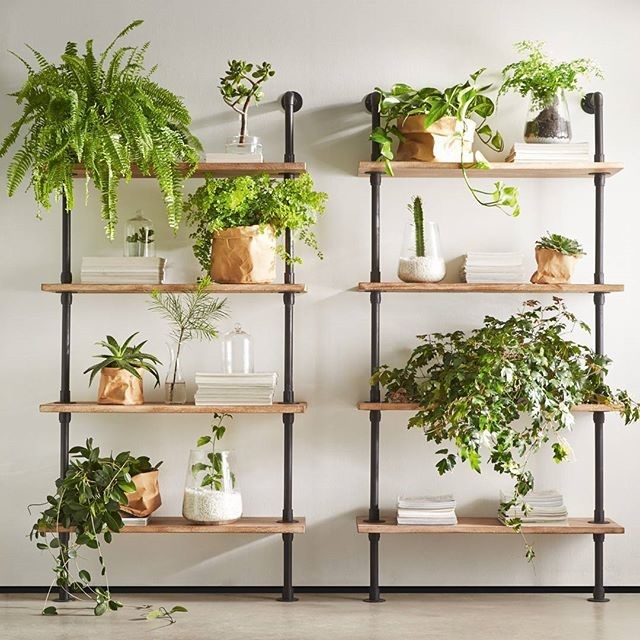 Image from Pintrest
Step 1: Design your look
First up, look into some shelving to put your plants on. Floating or hanging shelves are inexpensive to buy, easy to put up, look great and are easily built on if you want to make your plant wall bigger. Kmart has an awesome range of affordable and on-trend shelving options. Tap into the industrial trend with a few of these floating wall shelves for only $19 each, or this round metal hanging shelf, also $19. Or, go for a natural look with these square wall shelves, $15 for 3. We also love these ladder-style bookshelves, $45 each. Once you've checked out some materials, think about how you'd like to display your shelves on the wall. Instagram and Pintrest are awesome for inspiration.
Step 2: Install your shelving (properly!)
Take the time to measure and mark where your shelving will be going and mount them properly. Your plant wall will look much more professional and well put together if all your shelving is straight! You'll need a few basic tools for this step - see here for more info.
If you're doing floating shelves, remember to keep the height of your pots and plants in mind and leave enough space in between shelves. Nothing more frustrating than getting your shelving all up and looking swish, only to discover that amazing plant/pot combo isn't going to fit.
Step 3: Source your pots and plants!
Head to your nearest Bunnings or garden center and pick up a variety of indoor plants that you like the look of. Keep it interesting with a good mix of different styles and textures, like cascading plants, succulents, grasses and anything with beautifully textured leaves.
Pot-wise, mix and match a variety of different patterns and sizes for a fun and eclectic look, or keep it sleek and simple. Freedom have a fab range of vases and other decorative vessels starting from $4. Old glass jars work well too.
Now, all you have to do is arrange your plants on the wall, stand back and admire your beautifully decorated home design! Share your work with us on Instagram by tagging us @thrivehomesaustralia!